2022/23 Spanish League
With Real Madrid ruling the roost in Spain last season, there was a sense of normal service being resumed within the confines of La Liga.
Although La Liga does not quite hold the same global appeal as it did a decade or so ago, there is no doubt that it is still a highly entertaining competition and with the likes of Real Madrid and Barcelona dominating as usual, they still possess the ability to capture imaginations around the world.
Admittedly the competition has dropped down a level since the departures of both Cristiano Ronaldo and Lionel Messi but at the same time, it has allowed new names to come to the forefront and carry these footballing institutions on their backs.
While even with these departures, there is certainly no lack of interest when it comes to betting and with La Liga proving to be one of the more popular competitions for prospective punters, Spanish league predictions are always highly sought after.
Not to forget that La Liga has also been home to Finnish talent in the past and although
Teemu Pukki's
spell with Sevilla is arguably less memorable,
Jari Litmanen's
time with Barcelona at the start of the millennium will certainly register more with supporters.
Although the highpoint of Litmanen's career was at Ajax, he would also link up with Louis Van Gaal at the Camp Nou and even though injury deprived Barcelona fans the opportunity to see what he could truly do, he was still respected by those who lend their support to the Catalan outfit.
However, La Liga is not just a two-horse race and with Atletico Madrid also tasting success in recent years, it has meant that they and Sevilla are often a thorn in the side of both the Spanish League's two biggest outfits.
Spanish League schedule
With their being a winter World Cup in 2022, it means that the La Liga match schedule for this season is slightly disrupted. However, the disruption will not be as sorely felt when compared to competitions such as the Premier League.
Because with La Liga taking on a winter break as usual, the impact will not be as great for the 20 Spanish League teams that will compete in 38 La Liga matches each and as per usual, there will be a double round robin (home and away) system in place.
Which means the competition is currently set to get underway on August 12th and will finish at the end of May and with recent La Liga winners Real Madrid set to defend their crown; they do so having won the league on 35 separate occasions.

Top teams
When it comes to the tops team that operate within La Liga, you can never look further than either Real Madrid or Barcelona and with the former also winning last season's edition of the Champions League, they managed to achieve a domestic and European double.
Something that led to incredible celebrations in the Spanish capital of Madrid and commiserations in Catalunya and with Barcelona now operating in a post-Messi landscape, they have not quite found the ignition spark to return them to the top of the table.
However, the new era which is unfolding at the Camp Nou is certainly an exciting one and with no La Liga crown being captured since the 2018/19 season, supporters of Barcelona will feel that success is now long overdue.
Then again, Real Madrid will be in no mood to relinquish their La Liga title and with a litany of talents now fresh off success on the continent, it should provide Los Blancos with the perfect launchpad to start next season.
Of course, these two giants of the Spanish game are not the only entrants in any La Liga season and with Sevilla always ready to mount a challenge and Atletico Madrid knowing how to get over the finishing line first, these four are always solid pick when it comes to Champions League qualification.
Outside of this quartet, it is Villarreal who are also well known to football fans in Finland and after reaching the Semi-finals of last season's Champions League, they just missed out on adding to their Europa League success from the year before.
Top players and managers
As far as world-class players are concerned, La Liga has perhaps lost its ability to snare the very best and this can be signified by either
Erling Haaland
or
Kylian Mbappe
joining one of Barcelona or Real Madrid this summer.
With the pair of fearsome forwards moving to Manchester City and staying at PSG respectively, there is a sense that La Liga does not have the pulling power it once did and although there are still some genuinely talented players within the division, they are not considered the absolute elite.
Then again, such a statement arguably does a disservice to Real Madrid and after conquering the Champions League last season, manager
Carlo Ancelotti
will be delighted with the group of players that did the double 2021/22.
Not only that, but Ancelotti has already managed to capture
Antonio Rudiger
from Chelsea and with his arrival being one that is keenly anticipated, it will only make Barcelona's bid to catch them even more difficult.
However, it is not a bid that is impossible and with manager
Xavi
now assembling a new-look Barcelona side, the likes of
Pierre-Emerick Aubameyang
and
Ferran Torres
leading the new wave at the Camp Nou, they will also hope it leads to La Liga glory at the end of the season.
As for talents outside of Spain's big two, Atletico Madrid are not short of superstars and with
Joao Felix
and
Antoine Griezmann
linking up in attack, they are undoubtedly manager
Diego Simeone's
two most important names on the playing field.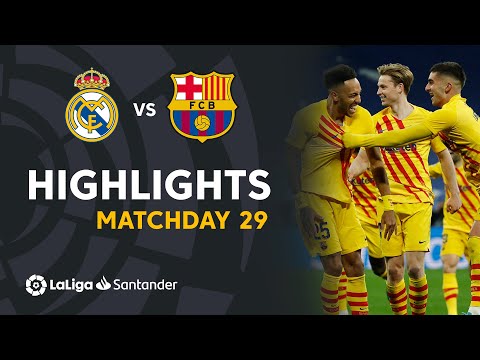 ▶
Video on the latest El Clasico
Who will win …
When it comes to who will win the next edition of La Liga, it is fair to say that Real Madrid are the current favourites and after the success of just a few months ago, they will look to pick up from where they left off.
Because with the evergreen pair of
Karim Benzema
and
Luka Modric
defeating both opposition defenders and the concept of time itself, they will be primed and ready for another La Liga title challenge with the white half of Madrid.
Then again, the white half of Madrid must always be wary of their crosstown rivals and with the red and white half of the city always considered on the favourites for Spanish League honours, Diego Simeone's Atletico cannot be overlooked either.
Nor can Barcelona be overlooked either and with the likes of
Gavi
and
Pedri
playing alongside Pierre-Emerick Aubameyang and Ferran Torres, the Catalan giants will also fancy their chances of earning Spanish supremacy.
While finally, we should add Sevilla into the mix as well and although they have not sat at the top step of Spanish football for 65 years,
Julen Lopetegui's
men are never a team to be overlooked when it comes to league honours.